Community is what makes Hidden Meadow Ranch special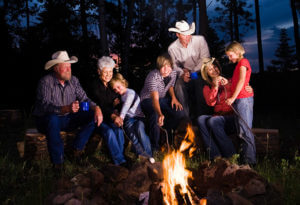 At an elevation of more than 8500 feet and in contrast to Arizona's better-known desert climates, owners at Hidden Meadow Ranch enjoy each beautiful Arizona White Mountains season. Cool summers offer wildflower-covered meadows and afternoon rain showers, autumns are framed by the glow of golden aspen tree, winters are snowy yet sunshine-filled, and springs are marked by budding trees and fields of purple iris.
It's our sense of community, centered around nature and time together as a family. The Ranch is a place where kids can be kids in a beautiful setting with lots of fun to be had. Surrounded by two million acres of National Forest, Hidden Meadow Ranch is the perfect place for embarking on dozens of adventures. Of course, it's also a mountain paradise made to luxuriate in the serenity of nature. At Hidden Meadow Ranch, you can do as much or as little as you want. Even napping in a hammock is a sanctioned activity!